Engagement Rings of Rich and Famous Celebrities
Engagement rings are part of a tradition that has spanned centuries and through the years, women have looked forward to wearing the ring which brings with it a promise of lifetime commitment. However, not all rings are created equal and the whole world is always curious about the engagement rings that rich and famous celebrities choose to wear.
The Most Expensive Celebrity Engagement Rings
Apart from being popular movie stars, what do Katherine Zeta Jones, Jennifer Aniston and Hilary Duff have in common? All three of them are sporting engagement rings reportedly valued at a million dollars. While that amount may seem shockingly excessive to ordinary people, it is in fact far from the top of the scale as far as celebrities are concerned.
Melania Knauss' Rock Trumps most Rings. Donald Trump gave Melania Knauss a beautiful 2 million dollar ring which is reputed to have the choicest diamonds in it. All of twelve carats, the ring was purchased from Graff jewelers.
Paris Hilton's ring from Paris Latsis. Paris got a 4.7 million dollar ring from Parisbut the gorgeous ring never got around to being paired with a wedding band.The beautiful diamond-studded piece must have been ill-fated from the start because even while the engagement was on, Ms. Hilton traded it in for a simpler, less bulky version.
Kim Kardashian's 2 Million Dollar Bling. Kim Kardashian's engagement ring from Kris Humphries boasted of a 16.5 carat emerald cut center stone flanked by two diamond trapezoids for a total of 20.5 carats. It was a pretty valuable piece of merchandise but unfortunately, not all the zeroes in its price tag could make the marriage last any longer than 72 days.
Beyonce's Flashy Stunner. If you think Kim Kardashian's ring was worth a lot of money, wait till you hear the details about the Schwartz rock Beyonce is wearing as a token of love from Jay-Z the rapper. The flawless 20 carat diamond ring is valued at whopping 5 million dollars!
Engagement Rings of Famous Women
Not all celebrity engagement rings draw their value from their price. Many rings worn by famous women are considered incalculably precious because of their history and the renown of their owners.

Here are some of those rings: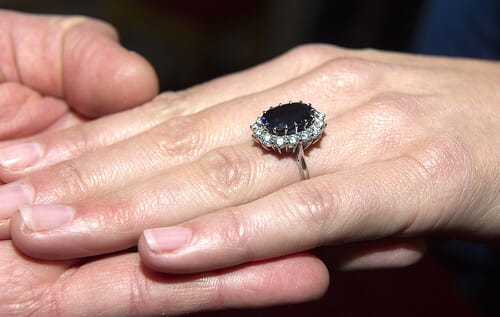 Kate Middleton's Blue Sapphire. One of the most famous engagement ring in the past three decades is the engagement ring that was once given by Prince Charles of England to Lady Diana; it has since been given by Prince William to his own princess. The ring is a stunning blue sapphire encircled by diamonds - a clear departure from the usual diamond solitaire. This blue beauty is certainly not as expensive as some rings that a good number of celebrities are sporting today and yet it is priceless because of its history and partly because it was worn by Diana who remains among the best loved women in the world today.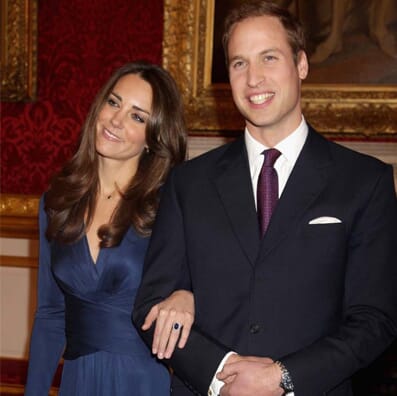 Jacqueline Kennedy's Engagement Rings. John F. Kennedy gave his future bride an elegant emerald ring intricately set with diamonds in a yellow gold band.Many surmise that the green stone was chosen because not only was it JFK'sbirthstone,it was also symbolic of Ireland and JFK was proud of his Irish American heritage.The ring is valued today at a hefty 1.5 million dollars although appraisers say the price owes more to its ownership history than the actual value of the gems.
Jackie's second husband, Aristotle Onassis gave her a forty plus carat diamond engagement ring from Harry Winston. The ring was later auctioned off and sold for over 2 million dollars after her death.
Imelda Marcos and her 11 day Courtship Ring. Imelda Marcos, former First Lady of the Philippines became known all over the world for her three thousand plus pairs of shoes, her lavish shopping sprees, her unbelievable chutzpah and her role as the beautiful half of a conjugal dictatorship. She became engaged to Ferdinand Marcos after an 11-day whirlwind courtship for which he gave her an 11 carat diamond ring - the size of which must have paled in comparison to the jewelry she was later able to acquire.
The More Modest Celebrity Engagement Rings
While many celebrities may choose to buy extravagantly priced engagement rings,there are a surprising number of famous people who can afford to spend millions on a bauble but have chosen not to. Although what they have spent may still seem like an enormous sum to ordinary mortals, the fact remains that they chose to spend much less than they could afford.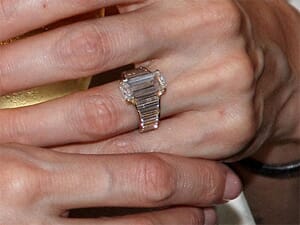 Angelina Jolie's Engagement Ring. Brad Pitt participated in designing the ring for Angelina a year before he proposed in April 2012. The value of the emerald cut diamond ring has been estimated at $250,000 – a mere pittance compared to the couple's estimated annual income of 50 million dollars. Clearly, in this case, money or the ring's cost is not the issue; the ring was chosen from the standpoint of personal significance.
Katie Holmes' Diamond. Tom Cruise once gave Katie Holmes a $250,000 engagement ring which is a truly modest buy for an actor whose net worth is estimated at $250 million.The five-carat diamond ring played its part as a promise of love for a little over five years.
Mrs. FaceBook's Ruby Ring. The Mark Zuckerberg of FaceBook presented his bride,Priscilla Chan with a simple ruby ring that may have cost him as little as $25,000.The amount managed to raise a few eyebrows especially since the FaceBook genius is supposedly worth 20 billion dollars. Still, his bride seemed perfectly happy with it and was reportedly showing it proudly to friends.
The astronomical price tags of the engagement rings of famous celebrities that it takes more than a dollar sign to make hopes of happily-ever-after come true.If the engagement ring is supposed to be a symbol of such hopes then perhaps there is some wisdom in choosing a sturdy, modestly priced ring – one that can be worn as a daily reminder of promises that beg to be kept.