Real Life Engagement Rings for Celebrities
People love romance, engagements and weddings especially if it happens to celebrities around tinsel town. With the paparazzi and the rest of the media at their heels, it creates ripples in the entertainment news. Celebrity engagements and weddings always make it to the headlines because it is something that the adoring public wouldn't want to miss. After the news becomes full media hype, all eyes and the camera lenses zoom in on the future brides' fingers – it can't be less than super expensive designer engagement rings.
To be talked about, the proof of the engagement and the fairy tale love story has to be something more than ordinary. Of course engagement rings are not exactly an assurance that celebrity marriages will last. But, right there and then the diamond-studded bling-bling adorning the graceful hands of the ladies of the silver screen must seize the moment.
Like a well-written script for a romantic flick, we all fantasize at the image of the dashing groom-to-be on his knee as he presented the engagement ring while popping the proverbial question: "Will you marry me?" Can this be true behind the scene? Let's take a look at how some of Hollywood's famous bachelors brought tears to their real life's leading ladies when they slipped on their fingers that small round thing worth more than our houses.
Tom Cruise and Katie Holmes
Tom Cruise was head-over-heels in love with Katie Holmes that he confessed being too presumptuous when he bought her an engagement ring right the next day after he first dated her. How could Katie resist the proposal made literally on top of the world right at the Eiffel Tower? Or was she more in love with the 5-carat, oval-shaped ring, set in combination of platinum and rose gold that Tom surprised her with? It was a classical sight, but the real scene stealer was the rose gold ring with the vintage look that has inspired a trend in engagement rings.
Ben Affleck and Jennifer Garner
When Jennifer celebrated her 33rd birthday, Ben surprised her with a 4.5-carat, cushion-cut Harry Winston ring worth half a million dollars. We could just imagine her saying it was her happiest birthday ever. Would she feel the same way had she known earlier that the same jeweller sold Ben the £1 million ring he gave to ex-fiancé Jennifer Lopez?
Jay-Z and Beyonce
Jay-Z must have gathered all the stars above the skies when he gave Beyoncé this eye-popping $5 million Lorraine Schwartz emerald-cut solitaire. The ring was studded with an 18-carat perfect diamond encrusted in platinum. We just wish we could be like Beyoncé when it comes to restraining delight because it is extremely difficult to do that while picking our dropped jaws from the floor.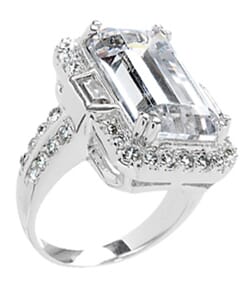 Marc Anthony and Jennifer Lopez
J-Lo must have gotten tired wearing the 8.5-carat worth £1 million-dollar engagement ring given by hubby Marc Anthony. While she insisted the ring was not a matching accessory to her outfit during Benjamin Button premier, rumours had it that marital problems are brewing in the couple's home front. All we know is that a square-cut diamond is a stunning complement to whatever we wear on any occasion.
David and Victoria Beckham
It was a homerun score for the Beckhams who both wear rings made by Boodle and Dunthorne. While Posh was still glowing from the 3-carat, marquise-cut sparkler, David was ordering a matching engagement band with 96 diamonds. The football superstar paid £200,000 for both rings. With such celebrity status, don't we all think it was a cheap amount to expend for the lady love?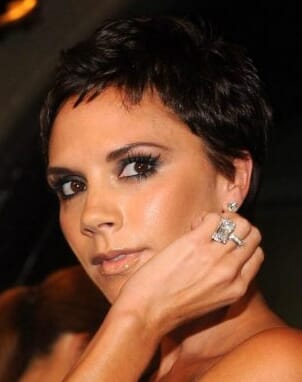 Ashley and Cheryl Cole
Cheryl knew it's time to take off her £100,000 heart-shaped ring when she found out that Ashley was fooling around. Could it be her way of saying she wanted another engagement ring from the hubby? Well, she got what she wished for when she showed up on the Jonathan Ross Show brandishing a square-cut ring allegedly worth £160,000 - a higher price to pay for the footie ace to win her heart back.
Wayne and Coleen Rooney
Coleen was a young 17 year old lass when Wayne proposed to her on the BP garage. Such an unromantic place! That time Wayne could only afford to slip a £45,000 cushion-cut diamond ring into her girl's finger. When Coleen turned 21, Wayne upgraded her rock to a 10-carat Chopard tagged at £200,000, which she lovingly refers to as her cherished engagement ring. Later on, the couple gave themselves a matching diamond wedding rings from the New York based Jacob & Co worth £1 million.
Seal and Heidi Klum
Nothing can be more dramatic at how Seal proposed to Heidi when he knelt down inside a specially-designed igloo on a glacier. As unique as his proposal style, Seal presented Heidi with a rare 12-carat canary yellow diamond bought from Lorraine Schwartz. Seal just knew how to match Heidi's stunning looks.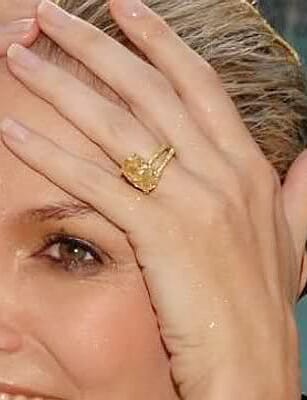 Arun Nayar and Elizabeth Hurley
Can Elizabeth's hand be hurting from the 15-carat beauty presented by hubby Arun Nayar? The ginormous rock was set in white gold and came from the high-profile Haute Joallerie collection. It is not something we see every day, but that makes us green with envy.
Celebrity engagement rings are as glamorous as their owners. With prices pegged worth our lifetime's toil, we can only dream of wearing something nearly as half nice. At the rate of which celebrity marriages collapse, regardless of how costly the designer rings are, nothing is certain.
Their relationships can't be stronger than ordinary couples with cheaper engagement and wedding rings. Like every other couple, they need to work hard on their relationships for it to last long after the curtains have been drawn and the klieg lights have been turned off.