The Era of Engagement Rings, Mangagement Rings and More
The 21st century is a time when many traditions and relationships have either gone into transition or become totally reinvented. It has become a fascinating era of freedom where stay-at-home dads are becoming quite common, and men can wear anything they like. They can have their eyebrows contoured, wear pierced earrings, and put on mangagement rings, the male equivalent of engagement rings.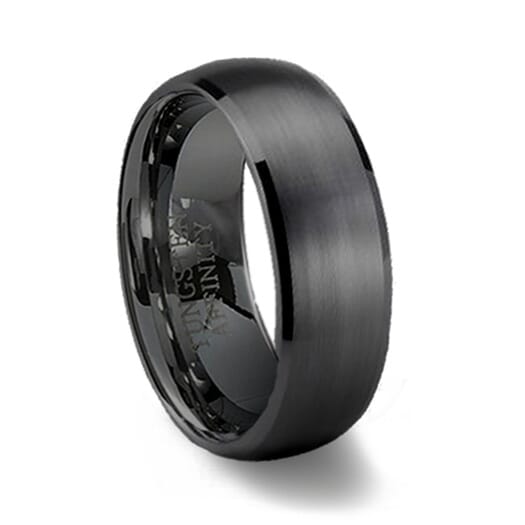 The Look and the Make of the Male Promise Ring
The mangagement ring is the male version of the betrothal or engagement ring, which women are usually gifted with when proposals are made. Unlike engagement rings that are traditionally as attractive and as costly as the groom-to-be can afford, the mangagement ring can be a simple band with no gems at all. Diamonds and other center stones are not required embellishment for this ring, and metals other than gold, silver, or platinum can be used to form the band. Tungsten, Carbide, Cobalt, and stainless steel are popular choices for betrothal bands.
As a rule, the male engagement ring must be chosen the way rings are chosen for women. The buyer must seriously take into account the personality and the preferences of the person who will wear the ring. Simple, down-to-earth guys can probably go for a plain white or yellow gold band. Palladium, a light white metal that does not tarnish, is also a good option for men who are willing to wear a ring but don't want to live with a lot of fuss.
A groom-to-be who likes to live ruggedly may want a ring made of Tungsten, Titanium, Vitalium or even stainless steel because these metals can take more punishment than 18-karat gold. On the other hand, men who don't mind a little dash and sparkle may want a mangagement ring with embedded gems. Alternatively, some may opt for rings with elaborate engravings.
Some male engagement rings are quite fancy looking with diamonds or blue sapphires as center stones. While the current trend in rings for men is that they are plainer than the ones made for women, there is actually no limit to their style and dazzle. The only constraint on a mangagement ring's design is the personal preference of the man wearing it.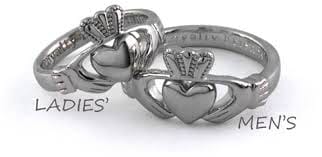 Some of the best liked designs for mangagement rings are adaptations of the Claddagh. Of Irish origin, the Claddagh features two hands clasping a heart, and it is traditionally worn by women. Variations of the design have worked for men – especially those who are of Irish descent. When worn on the left hand with the tip of the heart towards the fingertips, the Claddagh functions like a man's engagement ring. It announces to everyone that he is waiting to be wed to a fiancée. Likewise, when the Claddagh ring is worn on the right hand with the tip of the heart toward the wrist, the wearer is in a relationship. Married people wear this ring on the left hand with the tip of the heart toward the wrist.
When the Ring is Given
The mangagement ring may be given when a woman asks a man to be her husband. This idea may seem like a brazen departure from tradition since even today, men are usually the ones who propose to women. Despite expected resistance, this unconventional approach is becoming more accepted even when it is not leap year.
Amanda Gizzi, Jewelers of America Director of Communications and spokesperson for Jewelry Information Center, said that people are starting to buy engagement rings for men in America. If sales can be considered an indicator of trends, one can say that the mangagement ring is slowly gaining ground. The legalization of same sex marriage may contribute to even better sales figures in the near future, and it is not unlikely that stores will begin to sell his-and-his engagement rings. Mangagement rings are of course expected among gay couples when they decide to marry. As it is with heterosexual unions, the style and opulence of rings for gay couples is limited only by their taste and budget.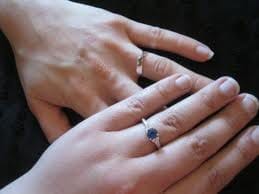 Some women give the mangagement ring as an engagement present instead of cufflinks or tie pins or some new fangled electronic toy. Given this way, there is much less awkwardness involved in accepting and eventually wearing the ring.
Famous Men and their Mangagement Rings
While the ordinary wage earner may find it a little difficult to adjust to the idea of wearing a ring that used to be exclusively for women, some very famous men have sported mangagement rings without embarrassment.
Popular singer Michael Buble wore a mangagement ring before he and Luisana Lopilato of Buenos Aires, Argentina, tied the knot. It is said that pre-wedding customs in Argentina dictate that the engaged couple wear matching silver rings once the wedding date is set, and then they switch to gold when the wedding ceremony takes place. Michael Buble's ring was a little more elaborate than a plain silver band, but the singer seemed right at home with it, even flashing it for the press without hesitation.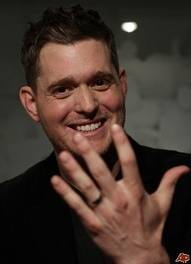 David Beckham, the world famous soccer player also wore a mangagement ring. The ring was made to order for him by his wife, former Spice Girl and model Victoria. It is said that David wears the ring up to now, 14 years after Victoria gave it to him.
Rumor has it that Jennifer Aniston gave Justin Theroux a 5-carat diamond ring – not at all an excessive size considering that her own ring is supposedly all of 10 carats. Unlike Michael Buble, however, Justin has no pictures wearing the rumored ring.
Countries Where Men Wear Engagement Rings
There are several countries where men wear engagement rings without a second thought. Brazil is one such country. Like their counterparts in Argentine, both the male and female halves of engaged couples wear rings upon engagement. They wear these on their right hands before marriage and on their left hands once they are married. Men also wear rings upon betrothal in Spain and Scandinavia, where the practice is to wear the ring on the left and shift it to the right upon marriage.
The Swedish tradition is for both men and women to have a simple engagement ring with their names and the date of the proposal engraved on the inside. The girl's name is also engraved on the inside of the man's ring while the man's name is engraved on the inside of the girl's ring. When the couple gets around to tying the proverbial knot, the groom puts another ring on the bride's finger. This is usually the ring with the bling – a reversal of American tradition where you have a flashy engagement ring followed by a simpler wedding ring.
What the Mangagement Ring is Really all About
For some politically inclined people, the engagement ring for men is all about reinventing traditions in order to infuse them with a new and more egalitarian meaning. Although precious, the engagement ring has a history of being considered a mark of ownership. Women wore a man's ring as a symbol of her belonging to the ring's owner. Many look at this as part of the treatment of women as chattel. The mangagement ring brings to the forefront the issue of equality and makes a statement that any claims to ownership will work both ways.
Deciding if the Mangagement Ring is Right for You
If you are about to be engaged or have just gotten engaged, you may be wondering if the mangagement ring will work for you. There are certain things you need to consider before ordering one of those sleek male engagement rings.
First, you need to be sure if the groom-to-be is open to the idea of wearing an engagement ring. If he isn't, don't take it personally. The refusal to wear an engagement ring is not a rejection of you; it is merely a reluctance to take on a relatively new practice.
Second, think seriously about using the mangagement ring as the wedding ring, and simply shift it to the other hand during the wedding ceremony. This is not only financially practical; it also frees you from having to figure out what to do with the mangagement ring when the wedding ring comes in. Remember, few men will agree to wear two rings at the same time.
Lastly, remember to let him know that wearing a mangagement ring is something that Michael Buble and David Beckham, two popular and sexy men, chose to do. Any man who agrees to wear a betrothal ring can therefore consider himself in good company.