The Tennis Bracelet: An in Depth Guide
In one of our last blogs about our buying guide to diamond bracelets, we talked briefly about what a tennis bracelet is. Here is a brief excerpt about it here:
"The Tennis Bracelet is an in-line thin diamond bracelet that features a symmetrical pattern of diamonds set in prongs or a series of channel set baguette and various shaped diamonds. The name tennis bracelet was coined in 1987 when Chris Evert, a former World No. 1 woman tennis player was playing in the US Open when her elegant diamond bracelet broke. The match was interrupted to allow her to recover the diamonds which fell off the bracelet. The tennis bracelet can be worn at all times of the time. It is a classical style that will never go out of fashion."
You can check out the full buyers guide here for other diamond bracelets.
This blog will be extending and adding on more details about the Tennis Bracelet to help buyers know how to choose and buy the right one.
When to buy a Tennis Bracelet?
A Tennis Bracelet does not just have 1 stone, the whole bracelet going around it are full of stones. As a result, it makes quite the beautiful and meaningful gift. Due to their classic and timeless appeal, the Tennis Bracelet makes a wonderful gift for any big occasion.
Here are some special occasions we think deserve a Tennis Bracelet:
Graduation
Birthday gift
Job Retirement
Job Promotions
Christmas
Wedding anniversary
Wedding day gift
For yourself
Styles and settings?
Although the characteristics of a Tennis Bracelet may look the same in the pictures, if you look closely, you may find that just a change in setting will affect the whole style of the bracelet around your wrist. There are 3 main types of settings:
Channel: The Channel setting is designed with 2 rows of metal of either side to fit and hold the diamonds closely together.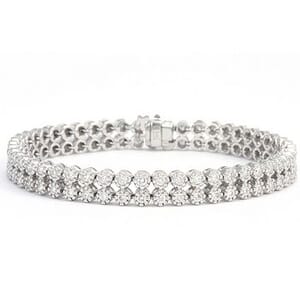 Prong: Just like a traditional engagement ring, 3 of 4 metal prongs would hold each individual stone to allow for the light to pass through the diamond to accentuate its brilliance.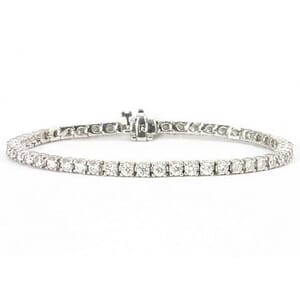 Bezel: The Bezel setting has each individual stone wrapped with metal around its head.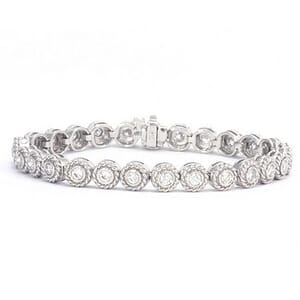 How to accessorise with a diamond tennis bracelet?
Like we said above, the diamond bracelet is quite versatile and can be worn with anything and with any outfit or occasion. Unlike the bracelet Chris had back in 1987, Tennis Bracelets nowadays sports a design that is stronger settings to hold (the stones in), flexible, adjustable, loose yet not so loose that it falls when your arm is aloft or 'playing tennis'.
When deciding on how to dress or accessorise with the Tennis Bracelet, keep things on the light and minimalistic side. As a rule of thumb, don't try to over-decorate otherwise its features of a Tennis Bracelet might be overshadowed by another piece or jewellery.
Here are some things you might want to try…
Try wearing it with a watch that matches the style and feel of the bracelet. In this case the bracelets role is to draw attention to the watch and add to its features.
Try wearing it with other bracelets. Because a Tennis Bracelet is so versatile, it can be worn with any other bracelets on your arm. The flexibility of the Tennis Bracelet adds a lively texture to the combination giving it an amazing look.
Try wearing it by itself. Let that bracelet roam free, sliding up and down and highlighting your arm and wrist. It works perfectly with short sleeves or summer wear.
GoldeNet offer a beautiful range of Diamond Tennis Bracelets for yourself or the special someone in your life. You can easily customise our bracelets online with the metal type of your choice. To browse our Diamond Tennis Bracelets range click here.
If you need some more information, simply reach out to us at 1300 361 873 - or visit us today in our Brighton Showroom!